Chiropractic Care At Joliet Medical Center
Pain — no matter where it occurs in the body — can majorly detract from your quality of life. Most times when we experience pain in our day-to-day lives, we resort to taking ibuprofen, or in extreme cases, going to the doctor's office to be prescribed pain management medications.
What Is Chiropractic? 
Chiropractic is the practice of manipulating and realigning your musculoskeletal system to reduce pain and improve your body's overall function. 
To accomplish this, a chiropractor — someone who's certified to perform chiropractic work — uses their hands, and sometimes a piece of equipment, to manipulate your musculoskeletal system in ways that realign it and essentially recalibrate your body to its default. When you receive chiropractic work, it's called an adjustment. 
This effectively corrects or gradually works to correct any compensations your body has been using to put less stress on an injured or generally misaligned area of the body. Most commonly, chiropractic work is done to the spine. However, it's a diverse and elaborate form of holistic health and wellness that can be performed on the entire body. 
In regard to its origins, chiropractic care originated in the late 1800s and was created by D.D. Palmer who founded the prestigious Palmer College Of Chiropractic, an institution that continues to train and educate amazing chiropractors today!
How Does It Work?
We briefly covered how chiropractic works above, but let's get a little more descriptive. In the general sense, chiropractic care consists of intentional musculoskeletal manipulation. But what exactly does that mean? 
Musculoskeletal manipulation means that a chiropractor is using their hand and the occasional instrument to apply localized pressure to an area of the body that is misaligned. The pressure is applied in a quick, sudden movement. Essentially, what this does is release pockets of gas that have accumulated in between joints or vertebrae. 
Interestingly enough, the gasses being released from joints and vertebrae are the source of those iconic 'pops' or 'cracks' that people associate with chiropractic. Nothing is actually cracking, breaking, or popping into place.
Have You Been Searching For Natural Pain Relief
What Are The Benefits Of Chiropractic Care?
Perhaps one of the most important benefits of chiropractic care is that it's deliberately designed to correct the musculoskeletal system, which easily becomes misaligned in the event of injury, bad posture, medical conditions, and more.

Holistic Pain Management – By utilizing chiropractic care to manage or prevent pain, you're participating in a natural, holistic practice of pain management that is, more or less, simply working to return your body to its natural and preferred alignment as well as improving and/or restoring function to areas of your body

Tangible Results Without Medication – One of our favorite aspects of chiropractic care is that it gives patients an opportunity to achieve the pain relief results they're seeking without needing to use medications that only work to numb or dull the pain.

Treatments Designed to Fit Your Needs – When you invest in chiropractic treatment, you're not going to be subjected to a cookie cutter adjustment that every other patient gets it. In fact, it's quite the opposite. With chiropractic care, a major aspect of treatment is working with the patient to assess and address the unique situation they're in. Additionally, chiropractors will be equipped to build a plan moving forward so you'll know what to expect and have a reliable treatment plan you can rely on.

A Happier, Healthier Life – As much as some people would like to deny it, there are massive bodies of scientific research that show how beneficial and effective chiropractic care. Over the years it's only gotten better, and even today there are constantly mind-blowing advancements in the field of chiropractic. Plus, chiropractic care goes hand-in-hand with the other services we offer at Joliet Medical Center like massage and physical therapy.
What Can Chiropractic Treat? 
If you're suffering from any of the following ailments, our chiropractors at Joliet Medical Center can help!

Back Pain
Perhaps the most common ailment treated through chiropractic, back pain management and relief is achieved by routine chiropractic manipulation of the spinal column!

Neck Pain
If you're experiencing pain and/or stiffness in your neck, a chiropractor can help with that too. By releasing pressure from and realigning your spine and neck, you'll experience relief.

Scoliosis
Scoliosis is a condition where there is an abnormal curvature to a person's spine. While chiropractic can't get rid of a person's scoliosis, it can be extremely effective at managing chronic pain associated with the condition.

Fibromyalgia
Another incurable condition, fibromyalgia leaves patients feeling pain throughout their musculoskeletal system. Chiropractic is also effective at managing the pain and addressing problem areas caused by this condition.

Sciatica
Sciatica is a condition where one feels pain along the sciatic nerve, which runs through the legs and buttocks. Because chiropractic is intended to realign the body, it can relieve pressure and tension that contributes to sciatica pain.

Carpal Tunnel
Anyone with this condition knows how painful and frustrating it can be. Carpal tunnel affects the wrists, however chiropractic can assist in treating and relieving this condition by realigning and alleviating pressure in the wrist.

Headaches And Migraines
Due to the nature of chiropractic care, it can effectively relieve pressure and realign areas of the musculoskeletal system that are contributing to migraines and headaches.
Allergies
We bet you didn't know this one! Because the nervous system and immune system are deeply connected, the realignment and manipulation of the spinal column can calibrate the nervous system, which in turn helps the body build a stronger immune system, regulate hormones, and support the respiratory system. All of these different aspects can contribute to alleviating allergy symptoms.
Are You Dealing With Any Of These Ailments?
Who You'll Be Working With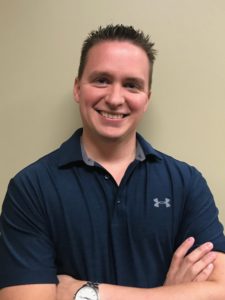 At Joliet Medical Center, we're extremely pleased to have Dr. Brett Nash, an experienced and caring chiropractor who is devoted to increasing his patients' levels of wellness. Dr. Nash is a graduate of the Palmer College of Chiropractic. He initially opened a practice in Pennsylvania in 2008, but ended up moving to Joliet to pursue his dream of helping people live more fulfilling, pain-free lives! 
What's more, Dr. Nash is an expert at collaborating with the other amazing health and wellness services we offer at Joliet Medical Center to help patients achieve their wellness goals in ways that don't require prescription medications or non-essential surgeries. 
Not just that, but Dr. Nash is wholly committed to holistic health. On top of his incredible chiropractic care and collaboration with our other health and wellness experts, he will work with you to develop strategies that you can use to actively work on and improve your wellness on your own.
Why Joliet Medical Center's Chiropractic Care?
Honestly, the answer is simple. Our chiropractic care is entirely dedicated to improving our patients' quality of life. We strive to get to know our patients and their unique health situations so we can do the best job possible. Our goal is to get you to a point where you're visiting us because you're practicing preventative wellness, not because you're desperately trying to mitigate the pain you face daily. 
That's not to say that we're not happy or excited to help you manage and mitigate your pain. We know how important it is to be pain free so you can live your life to the fullest. We're just more excited about getting you to the point where you no longer have to be consumed by the pain you're facing. 
Oh yeah, we almost forgot! We're also Joliet's Top Rated Local® Chiropractic Provider! This means that we've been reviewed and assessed by people in the area who can attest to the superior quality of the services we provide. 
If you're tired of trying different avenues of pain relief, give us a call to set up your visit with Dr. Nash. We're excited to see you!